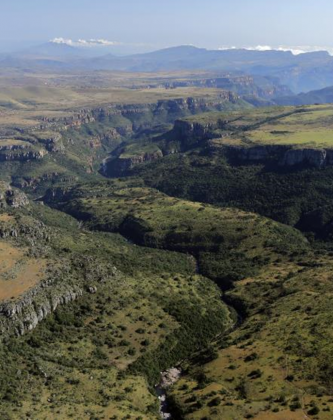 The Blyde Restoration Working Group, initiated under RESILIM-O and coordinated by AWARD and K2C, has enabled collective planning and coordinated and aligned implementation amongst all partners working in the Blyde area. This has been facilitated by a collaborative and reflective process which has supported learning and enabled the emergence of collective agency amongst practitioners. Key partners within the group include:
Department of Environment, Forestry & Fisheries (DEFF) Natural Resource Management Programmes (NRMPs)
Working for Water
High Altitude Teams (HAT)
Working on Fire
Department of Environment, Forestry & Fisheries (DEFF) Forestry & Natural Resource Management Branch
Mpumalanga Tourism and Parks Agency (MTPA)
Blyde Communal Property Associations
Kruger-to-Canyons Biosphere NPO (K2C)
South African National Parks (SANParks)
South African Environmental Observation Network (SAEON)
SAFCOL & York Timbers (Commercial Forestry)
Sabie Sand Wildtuin
AREAS OF COLLABORATION WITH PARTNERS:
Development of an invasive alien species inventory map,
Development of an integrated restoration plan for the Lowveld Plantations,
Development of an integrated landscape restoration approach, including clearing remote and inaccessible areas in the Blyde Canyon, and the integration of fire within IAP control,
Facilitating key agreements and institutional arrangements amongst stakeholders,
An updated management plan for the Blyde River Canyon Nature Reserve,
A timber resource assessment,
A water and biodiversity monitoring network and plan,
A wetland inventory map and integrity assessment, and
Securing additional funding to support this work.
Blyde Restoration Project Stakeholders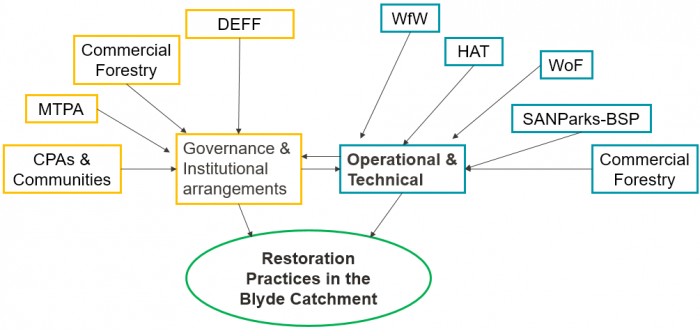 WfW: Working for Water
HAT: High Altitude Teams
WoF: Working on Fire
DEFF: Department of Environment, Forestry and Fisheries
MTPA: Mpumalanga Tourism Parks Agency
SANParks-BSP: SA National Parks-Biodiversity Social Project
CPAs: Communal Property Associations