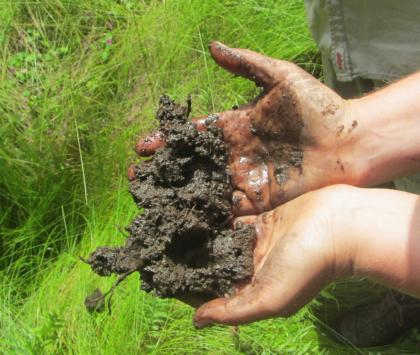 In January 2019 AWARD and the K2C in partnership with two wetland specialists, Dr. Lulu Pretorius and Anton Linström, conducted a preliminary investigation into some of the known wetlands in the upper Klaserie and Sand River catchments. Soil samples confirmed that many of the wetlands assessed were in fact peatlands, both in the swamp-forests along the foot of the escarpment and in the high-altitude wetlands in the Klaserie headwaters.
Peatlands are wetlands in which the soil is made up of partially decomposed, compressed organic material such as reeds and sedges, which forms in waterlogged environments as there is not enough oxygen for decomposition to occur at the usual rate. Due to peat's high organic carbon content it acts as a natural water storage and purifier, and plays an equally important role in storing carbon and hence mitigating climate change. Peatlands cover just 3% of the Earth's surface, yet they store nearly a third of all land-based carbon – twice as much as all the world's forests! Once degraded, the functioning of these wetlands can be negatively impacted and carbon is released back into the atmosphere.
The upper catchments of the Blyde, Sand and Klaserie along the Mpumalanga escarpment receive high amounts of rainfall and mist which is stored and slowly discharged by wetlands into these rivers that the Lowveld economies downstream rely on. The household water supplied to towns such as Hoedspruit, Phalaborwa, Acornhoek and Bushbuckridge all originate in the escarpment. Water from the catchment also feeds the Blyde Dam which supports a billion-rand agricultural sector around Hoedspruit, and further downstream the Kruger National Park and associated private game reserves rely on the rivers originating in the escarpment. Simply put, without the water from the escarpment, the lives of all people in the Lowveld would be very different.