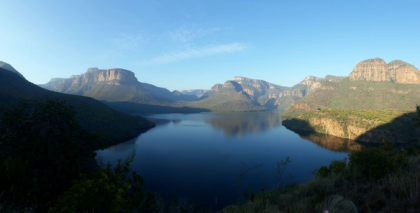 The Blyde area, including the upper Blyde, Sand and Klaserie sub-catchments, is situated in the Olifants and Sabie catchments, and is notable for its high biodiversity, water resources, and striking landscapes. The Blyde catchment is one of the strategic water source areas of South Africa, supporting many downstream livelihoods and economic activities. However, significant ecosystem degradation (partly due to invasive alien plants) constitutes a major threat to this landscape. Thus the Blyde has been the focus of numerous initiatives and considerable investment to restore ecological integrity, conserve its biodiversity and secure water flows. AWARD has supported this work through various projects for well over two decades.
What makes the Blyde special?

The upper Blyde and adjacent Sand and Klaserie catchments are located along the Mpumalanga Drakensberg Escarpment, to the west of the Kruger National Park. The combined area of these upper catchments is about 1 450 km2 (145 000 hectares). Due to the highly varied topography, geology, and climate of the area, these catchments support exceptional species diversity, with well over 2 000 plant species. There are 13 terrestrial vegetation types in the catchment, within the grassland, forest, savanna, and fynbos biomes. The area is also noted for its high endemism and supports several rare bird species including the only Taita Falcon breeding site in South Africa.
Due to exceptionally high rainfall, the area has over 13 000 hectares of indigenous forests, one of the largest forest complexes in South Africa. For the same reason, it is also home to a very high number of wetlands, many of which are peatlands. All these ecosystems play an important role in the hydrology of these catchments, as well as storing significant above and below ground carbon stocks, important for climate change adaptation and mitigation.
As a result of its high rainfall, the area falls within a National Strategic Water Source area (within the Mpumalanga Drakensberg node). These upper catchments are critical for water security to downstream towns and communities, including Acornhoek, Bushbuckridge, Hoedspruit and Phalaborwa. The Hoedspruit agricultural area is dependent on the Blyde Catchment for irrigation water, and is one of the largest sub-tropical fruit (mainly citrus and mango) producing areas in the country, with an estimated annual turnover of one billion rand, employing several thousand people. Downstream, the Blyde River feeds into the Olifants River, where it is an important contributor of flow (especially in winter) to the Kruger National Park and eventually Mozambique.
The area is one of the top tourist attractions in South Africa, containing unique and striking landscapes such as the Blyde River Canyon, Three Rondavels, Bourke's Luck potholes, God's Window, and more. Forming part of the Mpumalanga Panorama Route, it draws an estimated one million tourists per year, making a significant contribution to the local economy.
Blyde Restoration Project
The project aims to support the restoration of degraded ecosystems and maintenance of these and adjoining healthy ecosystems in the upper Blyde, Sand and Klaserie Catchments in order to sustain biodiversity and ecosystem services in this area and the livelihoods dependent on these in the long term. We aim to support the development of coordinated and integrated restoration and invasive alien plant control by natural resource and biodiversity management agencies working in these catchments. We seek to do this by focusing on collaborative strategic planning and implementation, skills development facilitated through new and integrated clearing approaches, enhanced coordination and better institutional arrangements, as well as by building custodianship amongst landowners and communities.
OUR MAIN ACTIVITIES:
Collaborative development and implementation of joint strategies and plans for long term coordinated and integrated restoration;
Support for enhanced coordination and alignment of natural resources management projects
Development of tenable and appropriate institutional arrangements, to ensure sustainable and socially just restoration and natural resource management practices;
Development of custodianship amongst landowners and communities;
Capacity development of practitioners in key skills within the restoration practice; and
Collaborative development of new and improved restoration methodologies and approaches.