Flyers & Brochures
– Hugo Retief and Sharon Pollard
A near real-time flow and dam monitoring app for the Olifants River Catchment
Flow Tracker for the Olifants River is the first of its kind. It enables near real-time flow and dam monitoring, and includes a weather forecast facility.
In the Olifants River, water quality and flow are severely compromised and likely to worsen under climate change. Although South Africa has robust water-related policies with the National Water Act (1998) being applauded internationally…
---
– Ancois de Villiers and Sharon Pollard
A basic brochure describing the difference between climate and weather, and outlining climate change and its impacts…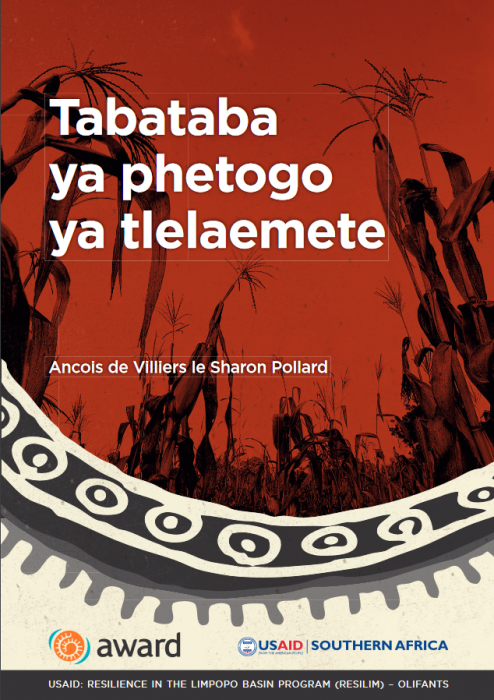 Also available in Sepedi.
---
– Sharon Pollard and Ancois de Villiers
Understanding scenarios, RCPs and ppm
A more technical brochure that explores greenhouse gas scenarios and helps to understand Representative Concentration Pathways (RCPs) and parts of carbon dioxide per million parts of air – or parts per million (ppm). Find out what the 400 ppm figure is and why 2°C is so important…
---
Critical Biodiversity Area (CBA) series
An overview brochure and 6 supporting brochures make up this series…
An overview of Critical Biodiversity Area (CBA) maps and their use for the Ba-Phalaborwa and Maruleng local municipalities. This brochure also describes the Biodiversity Sector Plan (BSP) handbooks and Land Use Guidelines and provides a step by step guide to using the CBA maps and BSP data.
Guidelines for land development applications (e.g. EIAs, water use licenses, mining or agricultural applications etc.)
Guidance for evaluating environmental impact assessments (EIAs), basic assessments, agricultural land use permits, water use licensing decisions and development control decisions through land use legislation (e.g. rezoning and subdivision approvals).
Guidance for municipalities to protect CBAs. This process could include developing policies and by-laws in terms of the Spatial Planning and Land Use Management Act; financial measures in terms of the Municipal Property Rates Act; and, fiscal incentives in terms of the Income Tax Act.
Guidance for municipal spatial planners in biodiversity conservation – some 70% of biodiversity is estimated to occur outside protected areas (nature reserves and parks) which means that municipalities have a crucial role to play in the conservation of our natural heritage.
A glossary of over 80 terms including conservancies, cadastral units, ecological reserve, ecosystem services, hotspots, thresholds, red data species and many more…
What can municipalities do to increase our resilience to climate change? These guidelines assist in integrating climate change adaption into landuse planning & decision-making.
---
Guidelines
– Deborah Vromans, Stephen Holness, Derick du Toit and William Mponwana

A basic beginner's guide to support land use planning and decision-making in Critical Biodiversity Areas and Ecological Support Areas for sustainable development. The guide highlights the importance of biodiversity and conservation-based planning in the determination of land use activities, using the example of Maruleng Local Municipality, Lowveld (Limpopo Province)…
---
Training Manuals
– William Mponwana and Derick du Toit

This fieldbook is made up of six modules. In each module there are a number of tasks that you have to complete. At the end of each module there is a task to complete on your own at home. At the beginning of each session you will be given an opportunity to give feedback on your homework task…
---
Booklets
About 42% of the land area in the Olifants River Catchment is endangered or vulnerable. The total population for the Olifants River Catchment is estimated to be about 4.2 million people, about 70% of whom live in rural areas. What happens upstream affects things downstream… this booklet explores how things are linked in the Olifants system…
---
An overview of the Olifants River Catchment for those who live here, encouraging the view of 'Our Olifants' rather than 'The Olifants'. This booklet includes an outline of threats, critical areas for action and various AWARD initiatives, and encourages getting involved…
---
A Mapbook for the municipal area of Maruleng allowing for non-GIS users to interrogate the CBA Map categories and biodiversity features on a particular cahttp://award.org.za/wp/wp-content/uploads/2019/04/A3-CBA-Mapbook-for-Ba-Phalaborwa_25.4.19.pdfdastral unit (property). Adjacent to each CBA Map /portion is the National South African vegetation map. The mapbook can be used by all sectors and professionals involved in land use planning and decision-making, including non-governmental organizations and the public…
---
A Mapbook for the municipal area of ba-Phalaborwa allowing for non-GIS users to interrogate the CBA Map categories and biodiversity features on a particular cadastral unit (property). Adjacent to each CBA Map portion is the National South African vegetation map. The mapbook can be used by all sectors and professionals involved in land use planning and decision-making, including non-governmental organizations and the public…
---
This handbook presents the map of Critical Biodiversity Areas and Ecological Support Areas developed for the Maruleng Municipality, as part of the Mopani District Bioregional Plan…
---
This handbook presents the map of Critical Biodiversity Areas and Ecological Support Areas developed for the ba-Phalaborwa Municipality, as part of the Mopani District Bioregional Plan…
---
Newsletters
This is AWARD's first newsletter. As it is the first, it is a 'bumper edition' that gives an overview of programme highlights and outlines work in AWARD's main activity areas. Future newsletters will highlight recent AWARD activities in short newsflashes…
---
Games
Crossroads: A game of decisions and consequences
A game of scenarios to develop decision-making skills… players need to make choices by considering social, environmental and economic consequences when making decisions about land use and natural resource use. The game frames decisions in a fun and participatory way, encouraging interaction and discussion. It is often in discussions that real learning takes place. Click to download each of the PDFs below: 1. Overview 2. Instructions 3. Cards
---
Reports
2017/2018 Financial Year
This annual report covers the sixth year of the RESILIM-O Programme from October 2017 to September 2018. This marks a period of significant progress in the implementation of some 25 projects related to water and natural resources management and climate change adaptation in the Olifants River Basin. It embraces a period of deepening work with and institutionalisation of our systemic, social learning…
---
October to December 2018
This report covers the period October 2018 to December 2018, thefinal quarter of the 2018 calendar year and first quarter of the USAID financial year.The Annual Report for the 2017/2018 financial year was submitted on 1st November. A major focus this quarter was reflection on the past year and strategic planning for the year ahead, within project teams and also at the level of the whole program during…
---
January to March 2019
This report covers the period January to March 2019. The close-out period begins on 1 April 2019. A couple of unexpected events tested the resilience of the team this quarter-firstly the injury of our Assistant Director Derick du Toit in a robbery, from which he has fortunately recovered. Secondly, a "ransomware" attack affected our financial software, resulting in much time spent recapturing financial information from paper records…
---
Inaugural network workshop for the sustainability of water resources in the lower Olifants River
AWARD, together with other partners has been working with stakeholders to support the sustainable management and use of the Olifants River. The last few years of protracted drought have illustrated how vulnerable the lower Olifants River area is in terms of surface water availability. Indeed, the drought has highlighted the fact that in times of low flows and stress, the situation has become critical and…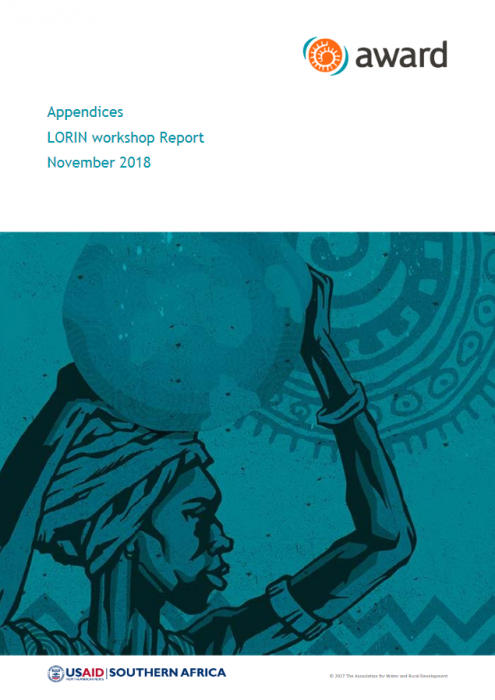 Appendices