Overview
A variety of materials in various formats can be downloaded and used as either reference material or guidelines for specific practices. This overview brochure explains how the resources are organized. Project activities are arranged according to four colour-coded thematic or focus areas (land, water, climate change, institutional support) – a list of resources relevant to each focus area can be found in that area. Resources can also be searched for according to the type of resource (booklet, technical report, etc.) – see tabs below.
---
Flyers & Brochures
– Hugo Retief and Sharon Pollard
A near real-time flow and dam monitoring app for the Olifants River Catchment
Flow Tracker for the Olifants River is the first of its kind. It enables near real-time flow and dam monitoring, and includes a weather forecast facility. In the Olifants River, water quality and flow are severely compromised and likely to worsen under climate change. Although South Africa has robust water-related policies with the National Water Act (1998) being applauded internationally…
---
– Ancois de Villiers and Sharon Pollard
A basic brochure describing the difference between climate and weather, and outlining climate change and its impacts…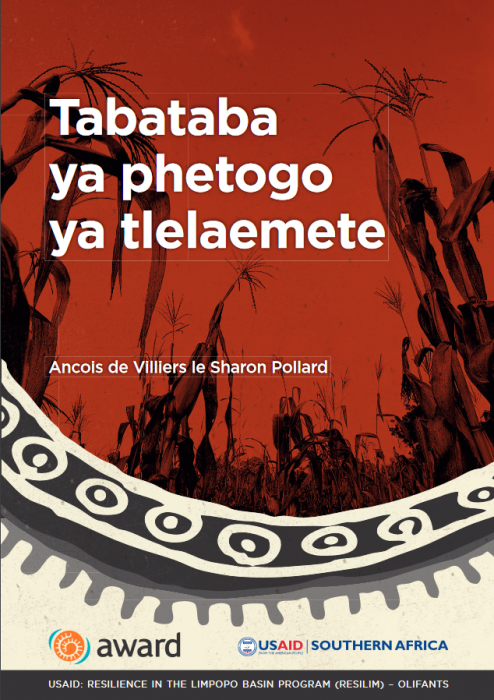 Also available in Sepedi.
---
– Sharon Pollard and Ancois de Villiers
Understanding scenarios, RCPs and ppm
A more technical brochure that explores greenhouse gas scenarios and helps to understand Representative Concentration Pathways (RCPs) and parts of carbon dioxide per million parts of air – or parts per million (ppm). Find out what the 400 ppm figure is and why 2°C is so important…
---
– Sharon Pollard and Derick du Toit

This resource is designed to support farmers and practitioners to explore – and remember – the principles and practices of soil and water conservation (SWC). SWC practices are an important part of an agroecology approach to farming. But first we need to understand what is meant by agroecology and to see how SWC 'fits in'…
---
Resilience-building programs in social-ecological systems need monitoring and evaluation (M&E) systems that respond to the complexity of the context and enable ongoing learning…
---
This flyer introduces the importance of collecting evidence in preparation for environmental justice.
---
The things we do affect a catchment in different ways. As part of resilience building processes, we need to look at practices and how they affect the system and make it more or less resilient to change. It can be helpful to look at practices through a framework called Cultural Historical Activity Theory (CHAT) to log activities that may need to be worked on for transformation and to support a social learning agenda. This brochure gives an overview of CHAT and how to work with it.
---
Critical Biodiversity Area (CBA) series
An overview brochure and 6 supporting brochures make up this series…
An overview of Critical Biodiversity Area (CBA) maps and their use for the Ba-Phalaborwa and Maruleng local municipalities. This brochure also describes the Biodiversity Sector Plan (BSP) handbooks and Land Use Guidelines and provides a step by step guide to using the CBA maps and BSP data.
Guidelines for land development applications (e.g. EIAs, water use licenses, mining or agricultural applications etc.)
Guidance for evaluating environmental impact assessments (EIAs), basic assessments, agricultural land use permits, water use licensing decisions and development control decisions through land-use legislation (e.g. rezoning and subdivision approvals).
Guidance for municipalities to protect CBAs. This process could include developing policies and by-laws in terms of the Spatial Planning and Land Use Management Act; financial measures in terms of the Municipal Property Rates Act; and, fiscal incentives in terms of the Income Tax Act.
Guidance for municipal spatial planners in biodiversity conservation – some 70% of biodiversity is estimated to occur outside protected areas (nature reserves and parks) which means that municipalities have a crucial role to play in the conservation of our natural heritage.
A glossary of over 80 terms including conservancies, cadastral units, ecological reserve, ecosystem services, hotspots, thresholds, red data species and many more…
What can municipalities do to increase our resilience to climate change? These guidelines assist in integrating climate change adaption into land-use planning & decision-making.
---
The Olifants and its contributing waterways are critical for supporting life. Yet unchecked pollution, inappropriate land and resource use, weak and poorly enforced policies and regulations, and poor protection of habitats and biodiversity are degrading the Olifants at an alarming rate.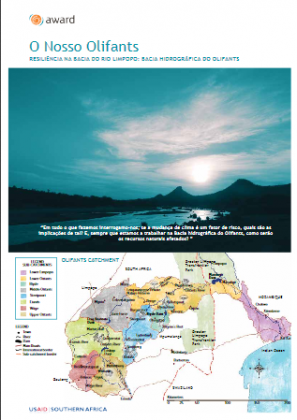 Also available in Portuguese
---
This AWARD brochure gives an overview of the second phase of USAID: RESILIM-O program and how it helps to reduce the vulnerability of people who depend on the Olifants River Basin.
---
A water conservation & water demand management strategy for Maruleng
To address potential water shortages, reduce losses and increase the security of supply, all municipalities need to develop a Water Conservation and Water Demand Management (WCWDM) strategy. This brochure shares the experience of Maruleng Municipality in doing this.
---
A short overview of some of the findings and recommendations on water consumption and management and of developing capacity for WDWCM in various municipalities.
---
A short overview of some of the findings and recommendations on water consumption and management and of developing capacity for WDWCM in various municipalities.
---
This flyer shares the results of a localised and nuanced analysis of historical trends and climate projections for the Olifants River Catchment summarised from a technical brief.
---
– Lilian Goredema
This brochure is for communities who have claimed land in protected areas and aims to provide an overview of the key laws and policies that influence co-management in South Africa.
---
Municipal leaders in the Mopani District- and Ba-Phalaborwa Local Municipalities expressed their concern and commitment to rectify areas of non-compliance linked to the wastewater treatment plants they managed. A Turnaround Plan was developed, the basics of which are presented in this brochure.
---
Guidelines
– Deborah Vromans, Stephen Holness, Derick du Toit and William Mponwana

A basic beginner's guide to support land use planning and decision-making in Critical Biodiversity Areas and Ecological Support Areas for sustainable development. The guide highlights the importance of biodiversity and conservation-based planning in the determination of land use activities, using the example of Maruleng Local Municipality, Lowveld (Limpopo Province)…
– Derick du Toit & Charles Chikunda
Activity theory is not a specific theory of a particular domain, with specific techniques and procedures. It is a cross disciplinary approach offering conceptual tools and methodological principles which can be used to understand and support collective human activity and learning.
Guidelines for developing a charter to guide stakeholder involvement in water resource management processes. They will also help with establishing a forum with clear functions and a purpose.
---
SPLUMA is the new national legislation for all spatial planning in South Africa. The Act was enacted in 2013 and implemented nationally from July 2015. In its mandate to spatially transform the country, SPLUMA introduces a new, spatial planning system which places local municipality at the centre of spatial planning and decision making related to land use management.
---
This document provides summaries of 35 laws and policies ranging from international documents to non-binding instruments (such as the Millennium Development Goals) to charters and conventions of the African Union and SADC.
---
These guidelines help with enhancing the identification and control of alien and invasive species including the development of practical plans for monitoring, controlling and eradicating infested areas.
---
All South African municipalities are required by law to develop both an Integrated Development Plan (IDP) and a Spatial Development Framework (SDF) (Municipal Systems Act 2000). AWARD has developed an assessment methodology which used 31 criteria, with sub-criteria, to assess the level of inclusion of biodiversity and environmental issues in these primary planning documents produced by municipalities (IDPs and SDFs). Municipalities in the catchment were allocated a score.
---
These guidelines outline a range of resources for AIS identification and Control available online. These resources include legislation overviews and guidelines, identification and information materials, knowledge-sharing platforms and training opportunities.
---
Training Manuals
– William Mponwana and Derick du Toit

This fieldbook is made up of six modules. In each module there are a number of tasks that you have to complete. At the end of each module there is a task to complete on your own at home. At the beginning of each session you will be given an opportunity to give feedback on your homework task…
---
– Moletele Youth Programme

This field book is made up of six modules: In each module there are a number of tasks that you have to complete. At the end of each module there is a task for you to complete on your own at home. At the beginning of each session you will be given an opportunity to give feedback on your homework task…
---
Booklets
About 42% of the land area in the Olifants River Catchment is endangered or vulnerable. The total population for the Olifants River Catchment is estimated to be about 4.2 million people, about 70% of whom live in rural areas. What happens upstream affects things downstream… this booklet explores how things are linked in the Olifants system…
---
An overview of the Olifants River Catchment for those who live here, encouraging the view of 'Our Olifants' rather than 'The Olifants'. This booklet includes an outline of threats, critical areas for action and various AWARD initiatives, and encourages getting involved…
---
A Mapbook for the municipal area of Maruleng allowing for non-GIS users to interrogate the CBA Map categories and biodiversity features on a particular cadastral unit (property). Adjacent to each CBA Map /portion is the National South African vegetation map. The mapbook can be used by all sectors and professionals involved in land use planning and decision-making, including non-governmental organizations and the public…
---
A Mapbook for the municipal area of ba-Phalaborwa allowing for non-GIS users to interrogate the CBA Map categories and biodiversity features on a particular cadastral unit (property). Adjacent to each CBA Map portion is the National South African vegetation map. The mapbook can be used by all sectors and professionals involved in land use planning and decision-making, including non-governmental organizations and the public…
---
This handbook presents the map of Critical Biodiversity Areas and Ecological Support Areas developed for the Maruleng Municipality, as part of the Mopani District Bioregional Plan…
---
This handbook presents the map of Critical Biodiversity Areas and Ecological Support Areas developed for the ba-Phalaborwa Municipality, as part of the Mopani District Bioregional Plan…